Does it matter that I posted twice on the same day? If it does, I just don't care. I couldn't wait any longer to show you these pictures!
This cake is from the final class of Wilton's Course 4: Advanced Gum Paste Flowers
I am creating a stargazer tutorial- that's coming soon. For now a teaser. Look at these great photos!
Side Views
Front views
Stargazers, sweet peas, briar roses, ivy leaves and more.
It was a group effort. Each person in the class made a different tier. It was leaning but I can fix that next time when I do my own :) We then put our own flowers together and used spikes to set them into the cake.
I'm sad these classes are over - but excited to keep practicing!
I linked up!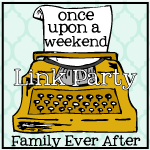 http://www.delicateconstruction.com/